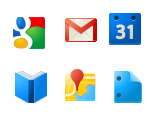 Date: Tuesday October 11, 2011
Time: 9:30am - Noon
Location: Ripon Public Library, 120 Jefferson Street, Ripon (map & driving directions)
Presenters: Beth Carpenter (Director, Kimberly-Little Chute Public Library) & Stef Morrill (Director, WiLS)
Remember when Google was just a search engine? Times have changed, and Google has a plethora of services that are helpful for all public libraries.
Beth & Stef will introduce various Google services and share tips and tricks for using them.
The Gadget Pack will be there too, so you can try any Google mobile tools on the iPod touch and iPad!
P.S. If you have a laptop computer, bring it with you to use the library's wifi to "play along" with Beth and Stef on the Google services they demo.
This workshop is eligible for 2.5 hours of technology-related continuing education contact hours.
Continuing education activity report form