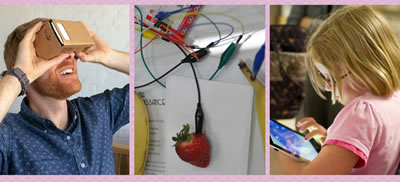 Tech Days Workshop
We're offering a variety of technology sessions, all in one day! You, your staff, and trustees are invited to attend.
Registration closes at 5pm on Wednesday, September 6, 2017
Date: Wednesday, September 13, 2017
Time: 8:30am - 3:30pm
Location: Mosquito Hill Nature Center, N3880 Rogers Rd, New London, WI (map)
This workshop is chock full of good stuff for you to learn & take back to your library. Here's the line-up:
8:30 - 9:20am — sign in, and morning refreshments
9:20 - 9:30am — welcome, orientation, and introductions
9:30 - Noon —
Emerging Tech Trends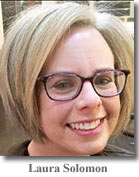 Like most of us, who pay even a little attention to recent developments in technology, you're likely overwhelmed by the sheer amount of information and progress. With so much coming at us so fast, keeping up can be a challenge. Do some technologies deserve more attention than others? Laura will explore emerging technology trends and tipping points, and how these trends might re-shape library services. Learn what's coming down the pike and what it might mean (or not) for libraries. We can't track everything, but we can pick out some patterns in what's happening around us.
Presenter: Laura Solomon, MCIW, MLS, is the Library Services Manager for the
Ohio Public Library Information Network
. She has been doing web development and design for twenty years, in both public libraries and as an independent consultant. Laura is a 2010
Library Journal Mover & Shaker
and blogs at
What Does This Mean to Me, Laura?
. She's written
three books
about social media and content marketing, specifically for libraries, and speaks nationally on both these and technology-related topics. And as a former children's librarian, she enjoys bringing the "fun of technology" to audiences.
12:15 - 1pm — lunch: $10 payable onsite the day of the workshop; we'll have a sandwich buffet, chips, brownies, and soda & water.. If you don't want to buy lunch, you may bring your own.
1:15 - 2:15pm — choose one of these breakout sessions:
•
Try Tech: The Challenges and Rewards of Keeping Ourselves and Patrons Tech-Savvy, One Grant at a Time
. Youth Services Mini-Grant awardees discuss their challenges and successes in engaging youth through technology. Librarians will describe how they taught technology through circulating makerspace items and programming efforts: hands-on tech features, gaming, coding, and crafting clubs. Featured tech will include: Amazon Echo Dot, Dash coding robot, PS4 gaming, Ozobots, Sphero SPRK+, Bloxels, LittleBits and Sizzix Texture Boutique. Bonus: hands-on time with these fun tech tools.  Presenters: Mandy Sprague (Adult/Teen Services Librarian, Ripon Public Library), Nicole Overbeck (Children and Teen Services Librarian, Berlin Public Library), and Becky Pfile (Director, Endeavor Public Library)
[ youth / tween  / teen services interest ]
•
Data Dashboard Design: 6 Lessons Learned in My First 6 Months
. Libraries have an abundance of data including annual reports, circulation & collection statistics, database & Wi-Fi usage, gate counts, program attendance, delivery statistics, and more!  Jody will share 6 lessons she learned in her first 6 months using Tableau to design data dashboards. These lessons will provide a framework of how data visualizations support library initiatives and, hopefully, encourage others to develop their own viz. Presenter: Jody Hoesly (Data Services Consultant, South Central Library System.) Maximum attendees: 15
•
PROUD and PRAVDA: Save A/V and Digital Media! 
Looking to save your library's or your community's unique audiovisual and/or digital media? Meet PROUD and PRAVDA, portable kits designed to do just that. Presenter: Dorothea Salo (Faculty Associate, UW-Madison School of Library and Information Studies.) Maximum attendees: 30
2:30 - 3:30pm — choose one of these breakout sessions:
•
Appy Hour. 
Are you and your public overwhelmed with all the apps available? Come and hear about some that Oshkosh Public Library librarians have found and recommend. These apps have been featured at their Tech Time and Learning in Retirement programs.  Presenter: Sharon Schwartz (Manager, Reference and Adult Services, Oshkosh Public Library)
•
Digitization Kits
. The South Central Library System recently purchased several digitization kits that they loan out to member libraries. One kit is a large Indus book scanner, and the other kits are flatbed scanners with a laptop and microphone for recording oral history. They will demonstrate the equipment, and discuss how they handle storage, backing up the files, and create custom project plans for each library. Presenters: Craig Ellefson (Computer Technician, South Central Library System) and Tamara Ramski (Digitization Assistant, South Central Library System.) Maximum attendees: 15
• Tech Mix: 3 Topics in One Hour. 1)
Coding Club for School-Aged Children.
Cindy will discuss how she implemented a $500 mini-grant to start up a coding club for school-aged children. She will share her struggles & her successes during the process, and also share her observations & plans for the future. 2)
5-Minute OPAC.
Patrick will show an OPAC solution that runs on any old Windows PC and is totally free. He will demonstrate the entire process, from Windows 7 box to full, secure OPAC in less than 5 minutes. 3)
Mars Trek.
Joy will demo how your patrons can explore & examine Mars, the asteroid Vesta, and Earth's Moon using just a web browser. This tool includes 3D printer-exportable topography, and standard keyboard gaming controls for flying high or low over the surface of these celestial objects. Presenters: Cindy Beyer (Children's Services, W.J. Niederkorn Library, Port Washington), Joy Schwarz (Continuing Education & Training Librarian, Winnefox Library System), and Patrick Busch (IT Specialist, Monarch Library System.)
[ youth / tween / teen services interest ]
Maximum attendees: 30
Library directors' continuing education contact hours for the full day:
- Technology-related contact hours: 6
- Total contact hours: 6
Tech Days is sponsored and coordinated by Winnefox Library System, Outagamie-Waupaca Library System, Manitowoc-Calumet Library System, Nicolet Federated Library System, South Central Library System, and the Southeastern Wisconsin (SEWI) library systems – Arrowhead Library System, Bridges Library System, Kenosha County Library System, Lakeshores Library System, Milwaukee County Federated Library System, Monarch Library System – and the Wisconsin Department of Public Instruction.
Please register using the form below: