Make your local vital records available for genealogy research through your library's web site! Winnefox can help you move away from trays of index cards and newspaper clipping files -- all you need to do is designate a staff person or volunteer to enter data from your local files, we've done the rest!
We recently took 7 local vital records databases and combined them into a central search for our patrons, the Winnefox Vital Records index: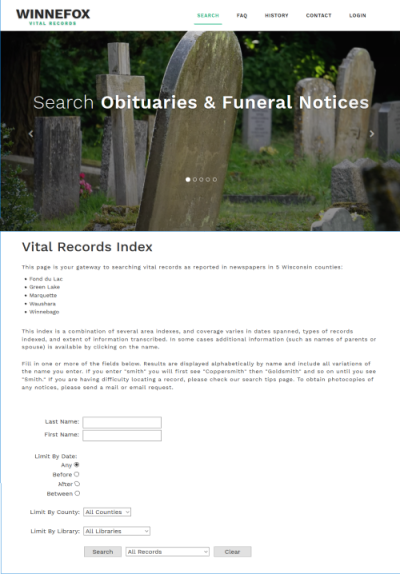 Databases included in the index are as follows:
Fond du Lac, Wisconsin Vital Statistics Index
Local Vital Records Index (Green Lake County libraries & Carter Memorial Library in Omro)
Neenah Obituary Index
Oshkosh Vital Records Index
Ripon Obituary Index
Waushara County Obituary Database
Winneconne Vital Records Database
Since combining into one, additional libraries have begun entering into the database.  Why not yours? 
The types of records indexed vary (obituaries are the most common), as do the dates covered.  On the search screen, patrons can limit by date, county or library, as well as types of records.
To get started adding your records to this database, contact Keetra Baker at baker@winnefox.org.