Submitted by smith on
Salutations!
Today's Topic: Suspending and UNsuspending holds for patrons in WorkFlows.
Truly, the easiest way to suspend and unsuspend holds is in the public catalog; however, one doesn't always have that option. And, as any good Scout knows, it is always better to be prepared with a backup plan!  Suspending a hold in WF is pretty straightforward, but when it comes to un-suspending? That's a different story!.....

Let's start with suspending a hold.  Patron has a hold and you want to suspend it for them while they fly south for the winter....
Step 1:  Find your way to Modify Hold Wizard...You can get there from:
Checkout Wizard -- Right-click on the appropriate hold and select Modify Hold
Display User Wizard -- Click on the Holds Tab, then right-click on the appropriate hold and select Modify Hold
Modify Hold Wizard -- On the Holds Toolbar, select Modify User Holds, or press Shft-F9.  Be sure to check the box(es) for the titles you want to modigy
You should get a screen/pop-up window that looks like this: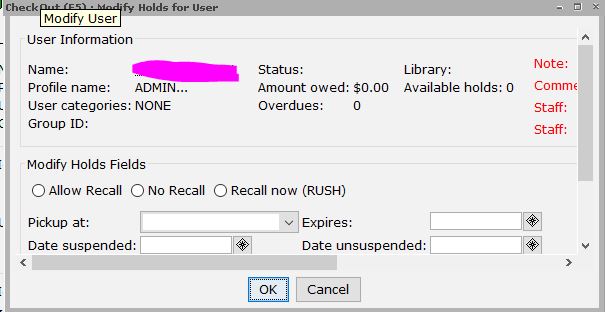 Step 2: Set the Date Suspended. Click on the Gadget to the right of "Date suspended"  and pick the date that you want the suspension to start.  It defaults to today, but you can change it to Dec 1st if our snowbird is hanging around for a while.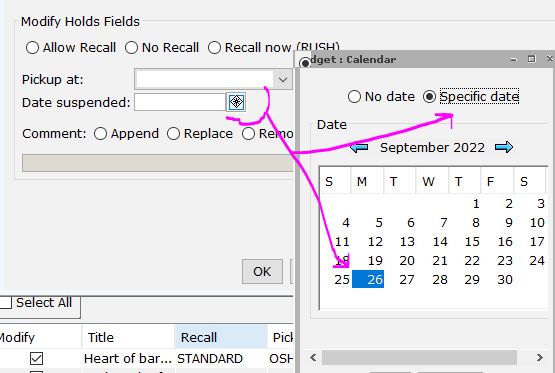 Once you have set the Date Suspended, move over to set Date Unsuspended. 
Step 3: Date Unsuspended. The obvious procedure is to use the calendar gadget to pick a Specific Date like, maybe, April 1st for our imaginary snowbirds. But what if they don't know when they're coming back? That is when the "No Date" option comes into play.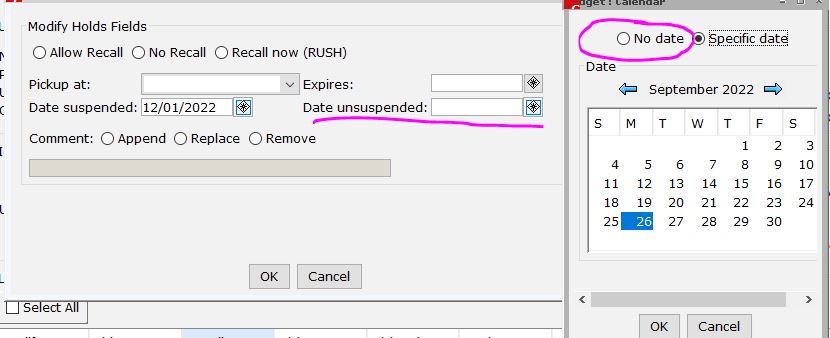 Selecting "No Date" inserts an Unsuspend date of "NEVER" so that the hold is perpetually in a suspended status until the patron (or staff) unsuspend it.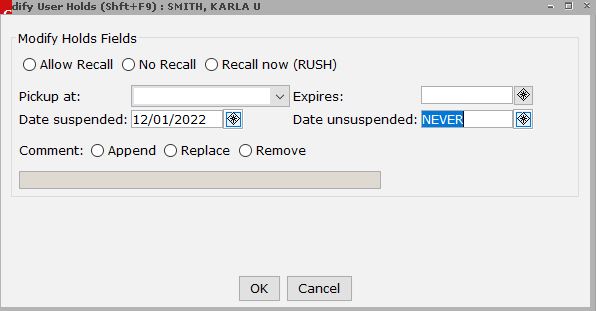 This allows patrons to meter their holds so that they can prevent too many items becoming available all at once.
Step 4: Click OK. This saves your changes.
And now the fun begins!! UN-suspending suspended holds...
So, here is our snowbird's hold suspended from Dec 1 to Apr 1:

Like suspending a hold, the first step is making your way to Modify Hold. Once there, you need to clear the dates in BOTH the Date Suspended and Date Unsuspended fields.
Step 1: Select the hold(s) in question. Click on Modify (or right-click and Modify Hold) and you get: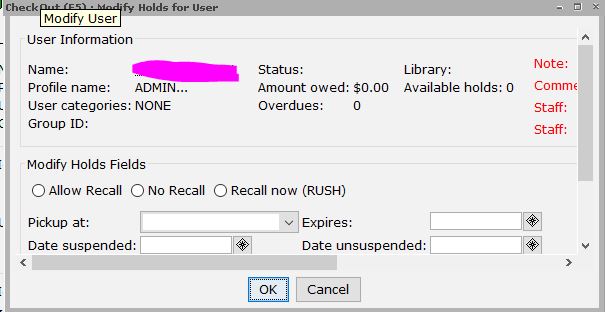 Notice that the Date Suspended and Unsuspended fields are blank. Although this looks promising, like the fields are already cleared, it is actually a safeguard/flaw in the software design.  WF is designed so that whenever suspending/unsuspending holds BOTH fields must be modified or you will get an error.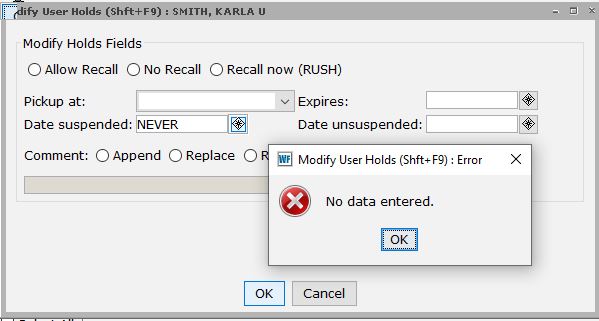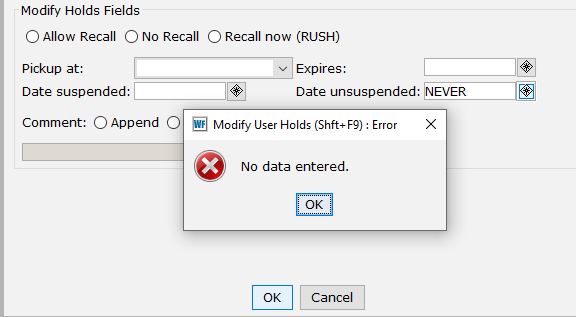 Step 2: Set BOTH dates to NEVER.  
Use the calendar gadget to select the No Date option for both fields.  OR
Type the word "NEVER" into both fields. Case is UnImporTant.
Step 3: Click OK to save your changes.
That's it for this week...
Share & Enjoy!
Karla