Submitted by smith on
Saluatations!
Today's Topic: Watch out for Large Print! Or, Read the Fine Print in the Bibliographic Record.
Does your library subscribe to the Large Print version of any magazines, or purchase Large Print books?  If not, read on…..  If so, read on…
When adding items to the database, make sure you are adding your copy to the correct record—regular print or large print.   Here is an example of how easy it is to get it wrong: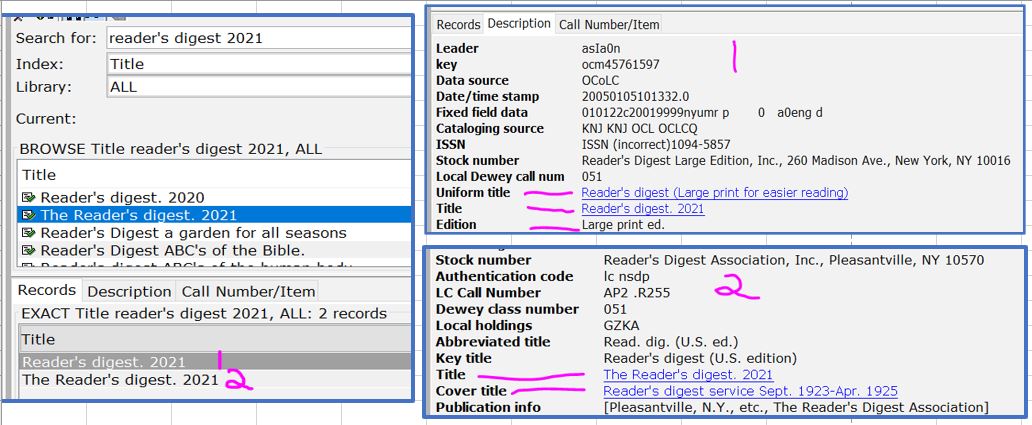 In the meantime, Stephanie Thomas of OshkoshPL added the subtitle to the large print edition of Reader's Digest to make this example more obvious going forward.
However, it is important to look closely at the bib record when barcoding before adding your copy. As a general rule, it won't say "large print" in the title or subtitle. You'll need to look on the Description tab to look at the Edition or Publication Info to make sure it isn't large print.
For full disclosure…. I didn't even spot the difference until Stephanie told me.  I got the question: "I added my latest issue of Reader's Digest, but it doesn't show up. What's going on?"  I figured out that the asking library had added their copy to one record and then went to look for it on the other record—but I never noticed either that one was large print and the other wasn't. 
Brandon, Coloma, Hancock, & PoySippi all have copies on the Large Print record (as do MPL, NPL, OPL, & RIPL, but I'm assuming they do subscribe to the LP version).  If your copies are on the wrong record, you can ask Cindy to transfer your copies to the regular print record
Excel Tip: I think I've mentioned this one before, but it is so useful that it bears repeating.....Also, I keep forgetting it and figure if I write it out again it will help me remember!! 
CTRL-SHIFT RIGHT ARROW selects all cells to end of Row starting at the cell you are in.
CTRL-SHIFT DOWN ARROW selects all cells to end of Column starting at the cell you are in.
Why not just select whole Column or whole Row?  Because sometimes all you want are the cells in a Row or Column that contain data. Sometimes you only want part of a  row or Column.   You can use CTRL-SHIFT with the Left and Up arrows also to select all cells to the beginning of a Row or Column, respectively.
Share & Enjoy!