Have an index to your community's local newspaper available on your library's web site! Winnefox can help you upgrade from trays of index cards and newspaper clipping files -- all you need to do is designate a staff person or volunteer to enter data from your local files, and we'll do the rest! To get started or find out details contact Keetra Baker at baker@winnefox.org.

To get an idea of what Winnefox can do for your library, take a look at the indexes we've developed so far: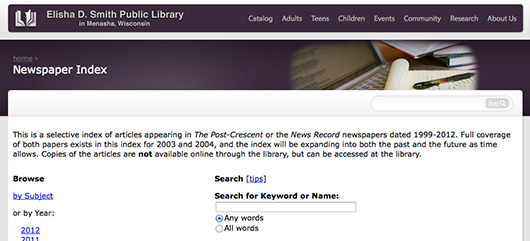 Selective index of articles appearing in The Post-Crescent or the News Record newspapers dated 1999 to 2007.  Full coverage of both papers exists in this index for 2003 and 2004 and the index will be expanding into both the past and the future as time allows.
For more information, contact Keetra Baker at baker@winnefox.org.